MELCHIZEDEK METHOD
level 5

AWAKEN YOUR LIFE TO A NEW LOOK.
Fill out the form below and learn more.
Level 5 will be a very visual presentation of 3D screen animations, allowing these powerful new sacred spheres to be attracted to us through the eyes. Our eyes will then connect through the Eye of God and into the Eye of the Creator Lord Elohim. We will manify our "Zenith Body of Light" of superconsciousness through the love of our soul.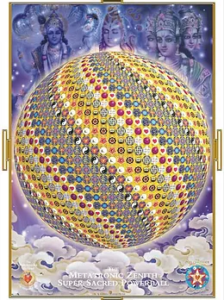 Level 5, known as "The Zenith Effect" (the highest point).
These sacred symbols and patterns, embedded in powerful super spheres of love, have the effect of accelerating our brain cells to the highest levels of thought forms available to us through the superconscious metatronic wave pattern of the pineal gland and the electromagnetic antenna connected to Orionis.
We have already activated the most powerful Merkabah on Earth. Now we must expand consciousness and heart to welcome the new love and divine thoughts of the coming fifth dimension to manifest our "Zenith Light Body".
The technique used to encode us with these new sacred powerful super spheres is called "A Path of Sight". Through this technique, we can merge the inner eye with our 3D eyes and, at the same time, connect the heart with the soul.
"A Path of Sight" not only allows us to accelerate our personal ascension, but collectively we can release these powerful fifth dimension super spheres encoded in the 555 planetary network of Cosmic Electromagnetic Christic Consciousness, to serve the continuous progress of humanity.
Level Five of the Melchizedek Method includes:
Duration: 3 full days of 8 hours and in a row.
Compulsory DVD set including

Set de DVDs obligatório incluso